State v. Joyce Amos, a case investigated by the Ashland County Sheriff's Department and the Ashland County Humane Society.  Defendant was convicted after trial of abandoning a 5 week old kitten by a dumpster at a veterinarian's office.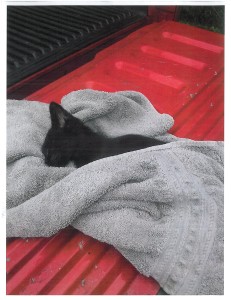 Amos was seen at rear of the building after hours putting a live animal trap in her trunk.  The witness turned her car around to ask Amos what she was doing.  Before she was able to turn, Amos drove away, running  stop sign and proceeding at a high rate of speed.  The witness caught up, got the license number, and reported it to the Sheriff's Department.
Amos admitted to the Deputy that she left the kitten by the dumpster.  She said that she was not the owner of the kitten, which she found abandoned on her porch.  She said she saw other kittens there, and a cat she assumed was a mother cat.  She assumed that either the mother cat would take in the kitten, or that the veterinarian would do so the next day.
The kitten, named "Firecracker," was retrieved almost immediately.  Despite being provided with excellent care, it died within a few days.
The law provides that an "owner or keeper" of a domestic animal may not abandon that animal.  The central legal question was whether Amos was either an "owner" or a "keeper."
Judge John Good pointed out that there are no other written appellate decisions which are directly on point on this legal issue in the State of Ohio.  He agreed with our position, that a person becomes the "keeper" of a domestic animal as soon as he/she voluntarily exerts control over it.  Amos was found guilty.  She was sentenced to $150 fine, plus restitution for fees to the  Veterinary Clinic in the amount of $170.50.