Experienced Ohio Animal Law and Animal Welfare Attorneys
For the past two decades, animal welfare and animal rights have been a primary focus for Holland & Muirden. We are one of the only firms in the State of Ohio that devotes a significant portion of its practice to the exciting, dynamic field of Animal Law.
Holland & Muirden attorneys act as appointed prosecutors for animal cruelty cases. Our firm also drafts animal-related legislation and practices Animal Law for private individuals, nonprofits, and businesses in both criminal and civil cases. We have vast experience in this field ranging from veterinary malpractice claims to dangerous dog designations. Our office is located in Ohio, but our attorneys have acted as consultants and co-counsel nationwide–and even internationally!
Special Prosecution for Animal Cruelty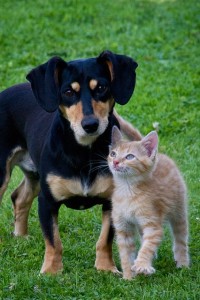 In 1991, more than 130 dogs were seized from a puppy mill by a local humane society.  The animals were suffering from living in filthy conditions, inadequate shelter, and lack of proper veterinary care.  Attorney Jeff Holland helped to prosecute that case and secure a conviction.
Since that time, Holland & Muirden has grown into one of the most experienced animal law firms in the state, prosecuting thousands of animal cruelty cases in dozens of courts all over the State of Ohio; from Cleveland to Dayton, from Steubenville to Toledo, and many communities in between.
Our attorneys have successfully prosecuted and convicted animal cruelty cases of all kinds, championing new legislature and achieving ground-breaking verdicts that help shape the way animals are treated under Ohio law.
Animal Cruelty Training and Humane Education
Holland & Muirden regularly conducts training seminars for Humane Agents, Dog Wardens, Animal Control Officers, Attorneys, and Veterinarians on animal law issues.
Holland & Muirden has conducted seminars on animal cruelty law for the Ohio Veterinary Medical Association (OVMA), Ohio State University, and the Montana Veterinary Medical Association.
Jeff Holland serves as an Adjunct Professor at Case Western University School of Law, where he teaches a class on Animal Law.
Civil Litigation and Administrative Animal Law
Our Ohio Animal Law attorneys pursue a broad range of animal welfare and animal law issues, some of which include:
Administrative Law:
     • "Nuisance Dog," "Dangerous dog," and "Vicious dog" designations and hearings
     • Zoning issues affecting animals and/or their guardians
     • Municipal code and ordinance violations
Breeder Issues
Contract Disputes
Custody Disputes
Disability Law:
     • Assistance and service animals, emotional support animals, psychiatric service animals
     • Violations of the Americans with Disabilities Act (ADA)
Dog Bites
Exotic and Wild Animal Issues:
     • Dangerous Wild Animals
     • Restricted Snakes
Equine Law and Horse Liability Issues
Farm, Agribusiness, and Livestock Concerns
Feral Cat Laws
Homeowner's Association Issues
Landlord / Tenant Issues
Legislation Drafting
Nonprofit Organizations and Humane Societies
Nuisance Laws and Concerns
Pet Limit Laws
Pet Store / Pet Purchase Issues
Rabies and Health Department Issues
Training and Kenneling Complaints
Trusts and Estate Planning: Pet Trusts
Wildlife and Ohio Department of Natural Resources (ODNR) Issues
Wolf-hybrid ("Wolfdog") Issues
Wrongful Injury
Wrongful Death
Veterinary Malpractice
Legislation
Holland & Muirden has been active in seeking better protection for animals and their owners under Ohio law.
In addition to advocacy, our Attorneys assist with drafting animal related ordinances, codes, and statutes at the local and state levels.
Attorney Jeff Holland helped draft S.B. 221, known as the Companion Animal Law, which was the first significant change in Ohio's animal cruelty law in over a hundred years. Jeff Holland also wrote the initial draft for H.B. 274, known as Goddard's Law (2013), which provided felony penalties for some cases of animal abuse in Ohio. Attorney DanaMarie Pannella is the author of S.B. 205, a pending legislative update to Goddard's Law.
Our attorneys have assisted with drafting felony animal cruelty, bestiality, veterinarian continuing education, veterinary reporting, animal tethering, Good Samaritan immunity, pet food adulteration, cross-reporting, and humane society bills for the Ohio House and Senate, along with many local legislative efforts for Ohio cities.