State v. David Scott, a case we prosecuted for the Brunswick Hills Police Department.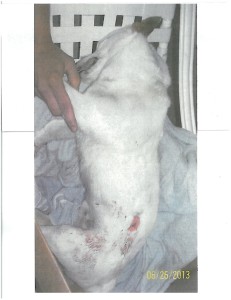 David Scott shot and killed a dog named Patches with a pellet gun. Patches was trespassing on his property, but the dog was at least 60 feet away from him and was in the act of departing the property. Scott claims that the dog was fighting with his own dog who was tethered just prior to the shooting. The officer examined Scott's dog and saw no evidence of injuries.
Scott was found guilty of Injuring Animals, a 2nd degree misdemeanor.
This case presented some difficulties for a number of reasons. Generally, one cannot be convicted of an animal cruelty offense if the act was deemed to be "necessary" or "justifiable." We knew that some people might find the shooting justifiable as a means for preventing future trespasses, especially since the weapon was a pellet gun, not a more powerful firearm. Pellet guns can be lethal, as in in this case, where the pellet penetrated the dog's abdomen.
Defendant was fined $500 and was ordered to pay restitution to the owner of Patches.