State v. Carlos Diaz, a case we prosecuted for the Cleveland Animal Protective League.
Diaz kept 15 roosters and hens in a filthy, sewage-filled basement. A number of the birds had untreated injuries, were underweight, or were otherwise ill. Food for the birds was scattered amongst the sewage, and no clean water was available.
Diaz admitted that he was training the roosters to fight. He further admitted that he sold and shipped the birds to Puerto Rico where they would be fought.
When the APL's humane agents responded to Diaz's residence, they found a fighting pen, where feathers were on the floor of the pen and blood was splattered on the walls. In addition, they found other items consistent with cockfighting: a timer, 3 pairs of rubber sparring pads, medications, performance-enhancing vitamins, salves, and syringes. Five pairs of spurs, razor-sharp knife-like devices strapped to roosters' legs for causing damage to their opponent, were found wrapped in bloody adhesive tape (pictured here).
Cockfighting is a cruel, abusive, and barbaric practice that tortures animals, endangers the health and safety of the public, and is known to facilitate other crimes, such as illegal gambling, drug abuse and sales, and firearms offenses.
In 2008, Diaz was found guilty of illegal fights between animals under ORC 959.15, a fourth degree misdemeanor. His punishment was a $250.00 fine and court costs.
Diaz plead to and was found guilty of 11 counts related to cockfighting, animal cruelty/neglect, and possessing criminal tools.
Under a separate case number, Diaz plead no contest to an additional violation of the city's urban farming law in relation to this case.
Judge Adrine sentenced Diaz to serve 6 months in jail, with an additional 1200 days suspended. Diaz must pay costs and complete 5 years of active probation, during which time he cannot possess any animals and must allow random inspections by the APL.
The birds were all rehabilitated.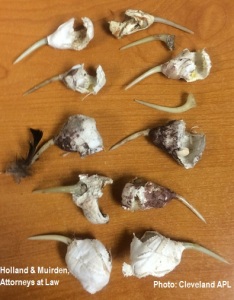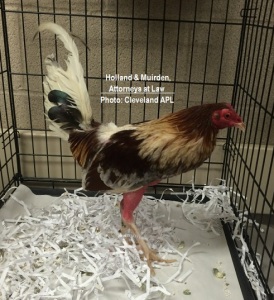 Tags:
animal cruelty jail time
,
Animal neglect
,
bloodsport
,
Cleveland APL
,
cockfighting
,
Criminal Law
,
Cruelty Law
,
filthy conditions
,
Ohio Animal Cruelty
,
ohio cockfighting