State v. Willie Powell, Jr., a case we prosecuted for the Cleveland Animal Protective League.
Judge Ronald Adrine sentenced Powell to serve 6 months in jail for the neglect of his four dogs, the maximum penalty for a first degree misdemeanor. Powell was previously convicted of attempted dog fighting in 2002.
In this case, Powell's four dogs were kept individually in small crates. The crate floors were covered in urine and feces, forcing the dogs to stand in their own excrement. The dogs were also underweight, and many had severely overgrown nails. One dog had an injury to its tail that caused blood to splatter on the walls.
Defendant was found guilty of two counts of companion animal cruelty, and two counts of keeping animals in filthy conditions.
Defendant was sentenced to one and half years in jail, all suspended except for six months. Powell was placed on 5 years of active probation, during which time he cannot own, keep, possess, or reside with any animals, and will be subject to random inspections. Powell must also pay $200 in restitution to the APL.
Powell was taken to jail immediately after sentencing.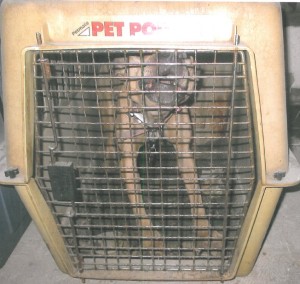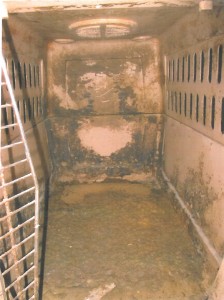 Tags:
Animal cruelty case
,
Animal neglect
,
animal starvation
,
Cleveland APL
,
Cleveland Municipal Court
,
companion animal cruelty
,
Cruelty Law
,
Ohio Animal Cruelty
,
Ohio Animal Law