House Bill 24 was signed by Governor DeWine on December 29, 2020. This lengthy bill goes into effect in 90 days. Most critically, HB 24 creates "care bond" hearings for livestock and allows courts to order convicted offenders to pay restitution for the care of those animals.
Care bond/cost of care laws help prevent humane societies and other law enforcement from incurring debilitating costs in animal cruelty cases and can help rescued animals find their new homes sooner, saving both money and animal lives.
Under current Ohio law, the seizure of a companion animal (generally cats, dogs, and some other animals kept in a residential dwelling) results in a judicial hearing within 10 days of seizure to determine whether the officer had probable cause to seize the companion animal, and if so, the amount of money (bond) necessary for the animal owner to pay for that companion animal's care while it is impounded pending trial. If the owner does not pay the care bond, the animal may be forfeited to the impounding agency.
Livestock are not currently subject to the same care bond hearings and are held for an indefinite period of time pending trial. Restitution to the impending agency has not been upheld in these cases, causing the impounding agency to bear all costs of rescuing a neglected or abused livestock animal. Thus, under current law, it is an extreme burden for impounding agencies to rescue/care for livestock and livestock often endure long holds in a facility when they could otherwise be placed in a new home. HB 24 now ensures quick due process for the livestock owner, that livestock will not be held needlessly, and that the impounding agency may be justly compensated for care provided.
Here are some additional highlights:

Reenacts current law provisions governing animal fighting, bestiality, and humane agent residency requirements, which were struck down in the Ohio Sixth Appellate District; thus making those provisions now enforceable in that district again

Allows dog wardens to use chemical capture on companion animals

Clarifies that a dog warden can "donate" or "adopt" out dogs that are not redeemed by their owner and may charge an adoption fee

Codifies humane society procedures for appointment and removal of humane agents, nonprosecution agreements, and public records that were previously only determined by case law

Creates a yearly report of humane society activity that is submitted to the county sheriff

Removes the antiquated "Ohio Humane Society" and provisions regarding humane society enforcement of crimes related to children

Specifies that a humane agent is a public servant for the purposes of bribery law

Increases the minimum monthly salary of humane agents to $150 a month
The full text can be found here: https://search-prod.lis.state.oh.us/solarapi/v1/general_assembly_133/bills/hb24/EN/05?format=pdf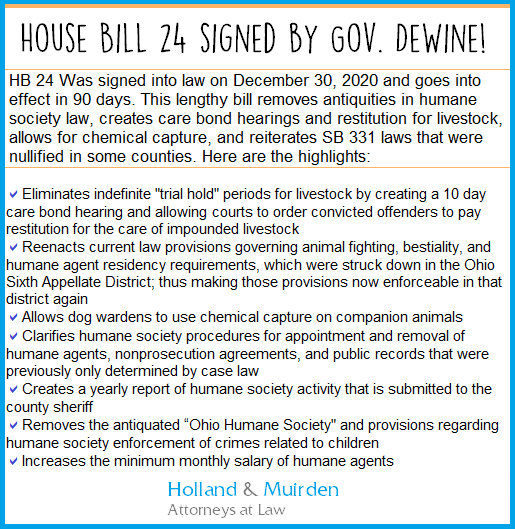 Tags:
animal cruelty
,
animal cruelty law
,
animal cruelty sentencing
,
Animal Law
,
bestiality law
,
chemical capture
,
dog wardens
,
humane agents
,
humane society law
,
Legislation
,
Ohio Animal Cruelty
,
Ohio animal cruelty law
,
Ohio bestiality
,
ohio cockfighting
,
Ohio legislation