Fun legislation news just in time for summer!
Several Ohio liquor laws changed as a result of Senate Bill 102. The changes went into effect March 23, 2022. Most importantly, charities can now legally auction or raffle alcoholic beverages at fundraising events!
Previously, awarding alcohol as a prize was not permitted, even for charities. Receiving a call from Liquor Control was an unpleasant surprise for many charities that were not aware of this archaic Ohio law.
The basic details of the new law:
IRC Section 527 political organizations or 501(c)(3) charitable organizations are allowed to award alcohol without a permit as a prize in a raffle, silent auction, or door prize, as those terms are defined, at a fundraising event.
Beer, wine, and mixed low-proof pre-packaged beverages must be purchased from a liquor permit holder, while high-proof spirituous liquor must be purchased from a state liquor agency store in this state.
Alcoholic beverages may be donated to the organization holding the event, but may not be donated by a liquor permit holder or state liquor agency.
The organization must keep spirituous liquor receipts to prove where the purchase occurred.
Information regarding the purchase of spirituous liquor must be provided to ODC Liquor Control prior to the event.
O.R.C. 4301.58
As always, you should consult with legal counsel regarding policies and waivers prior to raffling any legally restricted item.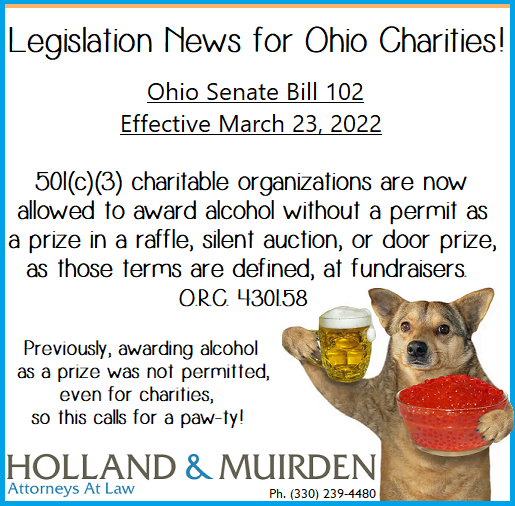 Tags:
alcohol donation
,
alcohol raffle
,
animal rescue
,
animal shelter
,
charities
,
charity
,
fundraiser
,
fundraising laws
,
liquor control
,
ohio charity
,
ohio law
,
Ohio legislation
,
silent auction