State v. Glenda Murray, a case we prosecuted for the Cleveland Animal Protective League.
Glenda Murray was charged related to her neglect of two emaciated, ill dogs tethered without shelter in cold weather. Glenda Murray's husband, Fuller Murray, who was also charged, is currently serving jail time on felony firearms and assault charges and his animal cruelty case is still awaiting adjudication.
Glenda Murray was found guilty of four counts and was sentenced to the maximum jail term (1 ½ years), all suspended. The suspended time may be imposed if she fails to complete 5 years' probation. During probation, she is prohibited from owning or keeping any animal. She must also submit to random inspections. Murray must complete 100 hours of community service and pay $230 in restitution to the APL.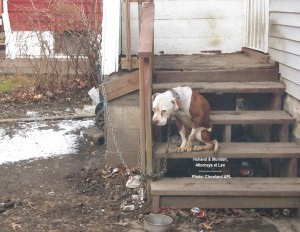 Tags:
Animal cruelty case
,
Animal neglect
,
animal starvation
,
Cleveland APL
,
Cleveland shelter law
,
Cleveland Tethering Law
,
Cruelty Law
,
Dog chaining
,
Dog neglect
,
dog starvation
,
Ohio Animal Cruelty
,
Ohio Animal Law
,
Tethering
,
Veterinary neglect