In February 2012, Edita Opluštilová, a resident of the Czech Republic, leased her Shiba Inu breed dog Mája to Tina King Duncan and Les Duncan. The Duncans operate as "Fallscreek Shibas" out of New Vienna, Ohio. The Duncans bred Mája twice and refused to return the dog and her second litter of puppies to Ms. Opluštilová. In December 2014, we accomplished the return of Mája and her puppies. The puppies are pictured below.
We also represent James Moglia of New York and Berry Bolink of the Netherlands, who recently filed suit against the Duncans in Highland County, Ohio. The Plaintiffs in this case purchased three Shiba Inu breed dogs from the Duncans, who hold themselves out to be reputable breeders with healthy, pedigreed Shiba Inu breed dogs of "champion" quality. Despite paying premium prices, the Plaintiffs allege that they never received AKC paperwork for their dogs as promised and also that one dog arrived infected with Giardia.
Similarly, we represented Gullborg Knudsen, a resident of Norway, who purchased a "show quality" Shiba Inu dog from the Duncans in April 2014. Fortunately, the dam and sire in Ms. Knudsen's case were actually AKC registered, unlike those in some of our other cases. We were finally able to acquire the AKC registration papers for Ms. Knudsen's dog.
The Duncans were previously located in Idaho (See article: Triple damages awarded in dog dispute).
Moglia and Bolink seek other individuals who are similarly situated. If you have purchased an un-registerable or sick dog, or paid for a dog never received from the Duncans, please contact Dana at [email protected] or 330-239-4480.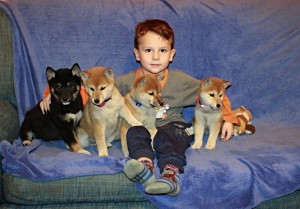 Tags:
AKC registration
,
Breeding leases
,
Dog breeding
,
Fallscreek Shibas
,
Les Duncan
,
Ohio Animal Law
,
Ohio Consumer Protection Law
,
Ohio dog breeders
,
Ohio dog pedigrees
,
Ohio Shiba Inu
,
Ohio Shiba Inu breeders
,
Ohio show dogs
,
Shiba Inu
,
Tina King Duncan