ANIMAL LEGISLATION UPDATE:
HB 198, which abolishes Ohio Humane Societies' ability to appoint prosecutors to prosecute crimes against animals, was introduced in the Ohio House on 5/11/15. This is the first legislative effort to REDUCE a Humane Society's ability to protect animals.
Primary Sponsors: Reps. Steve Hambley (R-69) and Greta Johnson (D-35)
Summary: To repeal section 2931.18 of the Revised Code to abolish the humane society's authority to employ an attorney to prosecute certain violations of law dealing with animal cruelty.
Find your Legislator here: https://www.legislature.ohio.gov/legislators/find-my-legislators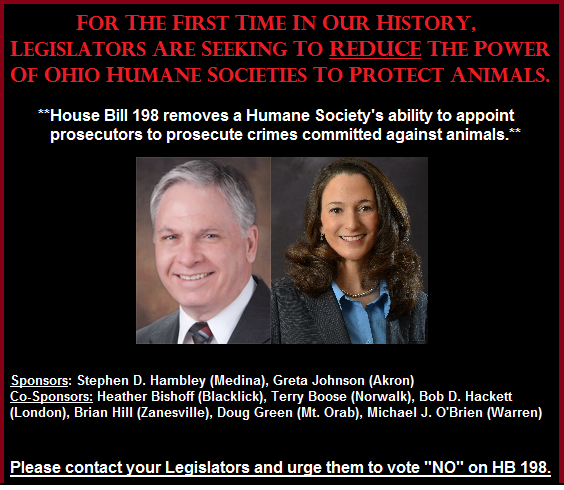 Tags:
Animal cruelty case
,
animal cruelty jail time
,
animal hoarding
,
Animal Law
,
Animal neglect
,
animal starvation
,
cat cruelty
,
cat hoarding
,
cockfighting
,
companion animal cruelty
,
Cruelty Law
,
Dog neglect
,
dog starvation
,
farm animal cruelty
,
Felony Animal Cruelty
,
filthy conditions
,
horse neglect
,
Legislation
,
Ohio Animal Cruelty
,
Ohio animal cruelty law
,
Ohio Animal Law
,
ohio cockfighting
,
Veterinary neglect